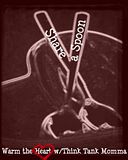 It's that time again. This week's theme is SALADS. Perfect for all you LIBers! So definitely go check out some of the links over there at my main blog!
Here is a QUICK, LIGHT and SATISFYING summer salad for you.
Ingredients:
3-4 medium vine ripe tomatoes (If you find the little pear shaped grape tomatoes looking lovely at the market then by all means use those red and yellow are amazing this time of year)
1 large Seedless cucumber
1 cup 1/3 less fat feta cheese
1 small red onion sliced thinly
2 tablespoons olive oil
3 tablespoons red wine vinegar
1 tablespoon fresh oregano
Cut the tomatoes into large chucks. (If you use the grape tomatoes just half them.) Dice the cucumber and add both to a large bowl. If you're like me the red onion can be a little overwhelming sometimes. After you thinly slice it, soak it in some ice water for 5-10 minutes and some of the bite will be left behind. Dry the onions and add the the tomato/cucumber mixture. In a small bowl whisk the olive oil and vinegar. Pour over the other ingredients. Add cheese and oregano and toss the salad. Allow the salad to chill in the fridge for 30 minutes or so while the flavors marry together! You can top with a bit of fresh mint or Italian Flat Leaf Parsley for a little flavor if you like.
Enjoy!!